Learn Night Light, Course 1
Register

Non-member - $400
Member - $350
About Course 1 Learn Night Light with Janet Lennox Moyer

It gets dark every night. This collection of twenty training sessions, provides the groundwork necessary for lighting professionals to create safe and pleasing night environments. Designer and Author Janet Lennox Moyer shares her knowledge and what she discovered on thousands of lighting design projects over her 48-years in-the-field experience.
Objectives:
At the end of these courses, participants will be able to:
Recognize landscape lighting differences from other types of lighting.
Understand the secret of the science and art behind illumination.
Understand humans' perception of light and how we use light to guide people through nighttime landscape spaces.
Elevate your capacity and expand your creativity with landscape lighting.
Select the right lighting equipment using LED technology.
Create lighting design plans tailored to your clients' needs.
Armed with fundamental tools and techniques, Learn Night Light will help you create effects that produce stunning, useable, and sustainable night scenes for your clients.
SAVE $100 when you register for both courses. Use code: LNLSAVE at checkout.
Watch the Course Trailer: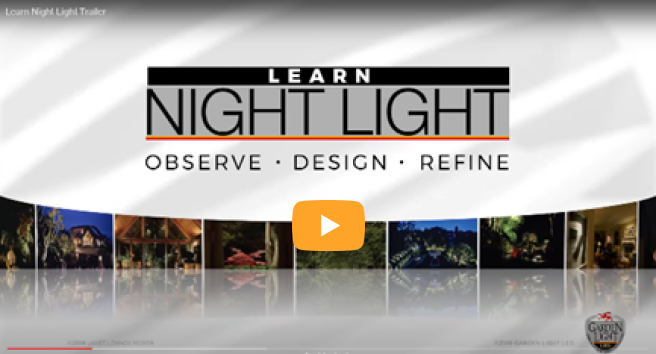 Session Themes:
Session 1: Composition Elements
Session 2: Creating a Sense of Depth
Session 3: Lighting Structures and Buildings
Session 4: Lighting Art
Session 5: Lighting Objectives and Expression
Session 6: Plant Lighting Guidelines
Session 7: View Out Windows and/or Across Garden
Session 8: How Light Stimulates the Human Eye/Brain
Session 9: Using Shadows
Session 10: Lighting Water Features
Courses Structure and Resources:
Each of the ten individual sessions (featuring a video, workbook, and quiz) can be completed at your own pace. We recommend downloading the workbook for each session before watching the corresponding video. As you watch the videos, the workbook can be used as a guide to the concepts covered in the session. Utilize the workbook, and your own notes and observations to take the quiz for each session. Upon successful completion of the quiz at the end of each session (you have unlimited attempts), you will unlock the next session in the course. Each session must be watched in order, but once you've completed one, you can revisit it as many times as you'd like to.
Courses Completion Guide:
Activate Session 1 or 11. Download the workbook, watch the video, and pass the quiz.
After each completed quiz, move on to the next module by clicking BACK TO PACKAGE and activating the next session in order.
Repeat the process of activating, viewing the session, downloading the workbook, viewing the video, and completing the quiz.
After completing session 10 and/or 20, a CEU certificate of completion will be available for immediate download.
Continuing Education:
Course 1 (Sessions 1-10) and Course 2 (Sessions 11-20) are each registered for continuing education credits with IES, ASLA, and AIA. Upon completion of both courses, earn 20 IES CEU, 20 LA CES, and 20 AIA LU.


---